Multi-Faith Fellowship
Student Fellowship
Our Multi-Faith Fellowship provides the rare opportunity for genuine learning and community across faith traditions. Honesty, openness, and humility are core values that make the Multi-Faith Fellowship a unique experience on campus. Now in its fourth year, students of any, all, or no faith have participated. The Multi-Faith Fellowship is led by professionals from the CU Office of Religious Life: Imam Ebad Rahman, Ms. Tessa McGowan, and Rabbi Yonah Hain.
To become a fellow in our multi-faith micro-community, apply below. Or, if you just want to try it out, join us for a session - Wednesdays 7:00 pm at the Earl Hall Center on the Morningside Campus.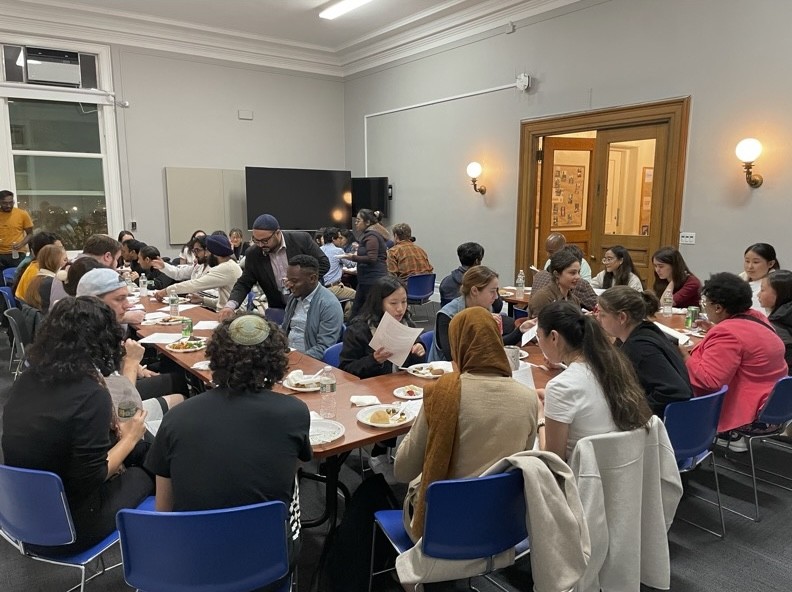 Expectations of Multi-Faith Fellows:
Attendance at weekly sessions, which will take place on Wednesday evenings from 7:00-8:30pm.
One-on-one check-in with one of our ORL professionals for feedback and community building. 
Participation in our Multi-Faith Field Trip Weekend for campus faith-based experiences.
Fall 2023 Dates:  9/13, 9/20, 9/27, 10/11, 10/18, 10/25, 11/1, 11/8, 11/15, 11/29, 12/6.
Spring 2024 Dates:  1/24, 1/31, 2/7, 2/14, 2/21, 2/28, 3/6
What our students are saying:  
"Multi-Faith Fellowship has been one of the highlights of my time at Columbia--an incredible combination of rich intellectual work with laughter, friendship, and great food! ... Whether we're grappling with how a benevolent God can permit suffering or re-naming our favorite ice cream flavors with religious puns, Multi-Faith is always unforgettable" – Christine Piazza, CC'23