Religious Life Advisers
Our Religious Life Advisers, in addition to Columbia Religious Life staff, represent a number of faith traditions across campus. Find contact information, meetings times, and bios for our campus faith leaders on this page.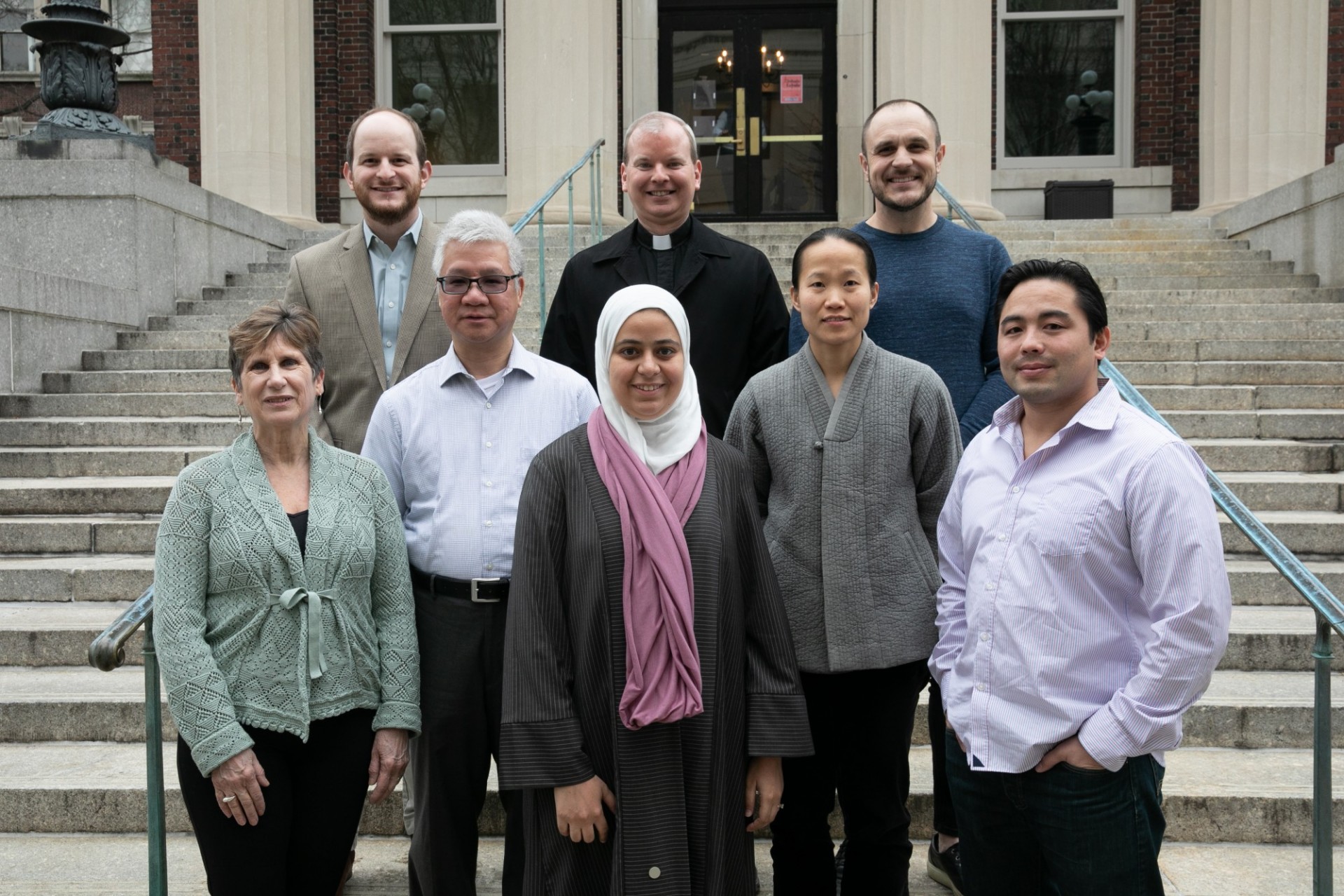 Religious Groups at Columbia University
---
Rev. Doyeon Park is a Kyomunim, literally meaning one who devotes oneself to teach Buddha dharma in the Won Buddhist tradition. She has served as the Buddhist Religious Life Advisor at Columbia University since 2011. She is also the Buddhist chaplain at New York University and a minister at the Manhattan Won Buddhist Temple.
Inspired by the Buddhist idea of inner freedom and happiness, Rev. Park started her monastic training in 1998. She graduated from Dept. of Won Buddhism, Won Kwang University, Iksan, Korea and earned an M.A. in Won Buddhist Studies from Won Institute of Graduate Studies, Glenside, Pennsylvania, USA. She received full ordination in 2007.
Rabbi Yonah Blum
Email: rabbiblum@columbia.edu
Phone: 646-853-3650
Rebbetzin Keren Blum
Email: rebbetzin@columbia.edu
Phone: 212-531-3999
Web: www.chabadstudentcenter.com
Shabbat Meals and Services: Friday and Saturday Nights
Location: 625 West 113th Street
New York, NY 10025
---
Rabbi Yonah Blum has spent the past 20+ years living and working on college campuses. He possesses the unique qualities of idealism, optimism, and genuine love of his fellows – qualities needed to thrive in a college environment.
Hailing from Potomac, MD, a Washington D.C. suburb, Rabbi Blum connected with Chabad while in high school. After graduation Rabbi Blum enrolled in the Yeshiva Tiferes Bochurim in Morristown, NJ. His rabbinic studies spanned five years and included some years at Yeshiva Tomchei Temimim as well as Yeshiva 770, where he received rabbinic ordination. He has a BA in Religious Studies "Semicha" from Tomchei Temimim Lubavitch.
A pioneer in campus outreach, Rabbi Blum enjoyed two years as a rabbinic intern in the picturesque, five college town of Amherst, MA, from 1995 to 1996. In 1997, Rabbi Blum accepted the position of full time campus Rabbi at Chabad at Columbia University. From his humble beginnings as a commuting straphanger, Rabbi Blum has grown Chabad to become a thriving communal center for learning and socializing.
---
Rebbetzin Keren Blum's first spoken language is Yiddish; Hebrew is her second, though it would never be apparent upon initially meeting her. A Brooklyn native, Rebbetzin Blum grew up in a small family of immigrant parents and grandparents.
Her diverse educational experiences have included Yeshiva of Flatbush, public school, Hampshire College, and Machon Chana Women's Institute. She earned a B.A. in the study of Nutrition and Poverty, an M.A. in Clinical Psychology from Teachers College, Columbia University, and an M.A. in Clinical Social Work from Touro College.
Her passions include social justice work, learning, and more recently raising the five Blum children to be the finest expressions of humanity they can possibly achieve. Keren joined Rabbi Blum as the Rebbetzin at Chabad at Columbia University in 1997 when they married.
Father Dan O'Reilly
Email:  dpo2105@columbia.edu
106 Earl Hall, MC 2008
Web: www.columbia-catholic.org
Catholic Mass: Monday–Friday, 12:15–1:00 p.m., Sundays, 5:00–6:00 p.m.
Location: St. Paul's Chapel
---
Fr. Dan O'Reilly has been the director of Columbia Catholic Ministry since 2011 and the administrator of Corpus Christi Church since 2013. Born in Manhattan and raised in the Bronx, he attended Regis High School in New York City and majored in philosophy at Princeton University before entering the seminary for the Archdiocese of New York. After earning an M.A. in theology and divinity from St. Joseph's Seminary in Yonkers, he was ordained a priest in 2003. He has served as parochial vicar at Resurrection Church in Rye, Director of Campus Ministry for the Archdiocese of New York, Spiritual Director for the St. John Neumann Seminary College in Yonkers, and Catholic Campus Minister at SUNY Maritime College in the Bronx. During the academic year, office hours are from 1-2pm in 110 Earl Hall every Monday to Friday.
Rabbi Yonah Hain
Email: rabbi@columbia.edu
Web: www.columbiabarnardhillel.org
Office Hours: Sign up to schedule a meeting with Rabbi Hain.
Prayer Schedule:
Conservative Jewish
Shabbat: Sundown on Fridays; Saturdays, 10:00 a.m.
Orthodox Jewish
Daily 7:45 a.m. and sundown
Shabbat: Sundown on Fridays; Saturdays, 9:15 a.m.
Reform Jewish
Shabbat: Fridays, 6:15 p.m.

Location:  The Kraft Center
606 West 115th Street
New York, NY 10027
---
As campus rabbi of Columbia University, Yonah Hain guides the educational, interfaith and religious initiatives of Columbia/Barnard Hillel's robust Jewish community. Yonah is passionate about Jewish thought, and specializes in text study and religious law in particular. He started at Columbia in 2007 and also worked for three years downtown at New York University. Yonah received his B.A. in Talmudic Literature and ordination from Jerusalem's rabbinic court. He currently lives on the Upper West Side with his wife, Elana, and their two children, Azzan and Navon. Yonah is on campus full-time with an office at the Kraft Center. 
Rev. Daniel Lee
Email: dsl2013@columbia.edu
Web:  facebook.com/cck.cu
Bible Study: Fridays, 7:30 p.m.
Location: Lerner 302
---
Pastor Daniel Lee has served as Religious Life Advisor at the Columbia/Barnard Compass Christian Koinonia for over twelve years, and also pastors a local Baptist Church. He received degrees from UC Berkeley, UC Hastings Law School, Golden Gate Baptist Theological Seminary, and Princeton Theological Seminary. His religious interests include constructive theology and the integration of faith/work.
Ryan Kuratko
101 Earl Hall, MC 2008
Email: ryan.kuratko@columbia.edu
Web: Facebook.com/ColumbiaCanterbury and canterburynyc.org/uptown-home
Eucharist: Sundays, 6:15 p.m.
Location: St. Paul's Chapel
Noonday Prayer: Once a week
Office Hours: Thursday, 11:30 a.m.–1:30 p.m.
Location: Room 101 Earl Hall 
---
The Rev. Ryan Kuratko is fascinated by the multi-dimensional formation of higher education. Ordained an Episcopal priest in 2006, he has more than 12 years of experience leading, teaching, and shaping Christian communities interested in compassion and justice. He is drawn to the generous Episcopal traditions that value everyday spirituality, rich diversity, and humor.
Ryan received a BA in philosophy from Northwestern University, an MDiv from Virginia Theological Seminary, and a PhD from Emory University in religion, with an added concentration in the study of religious practices.
Dr. Anne Klaeysen
101 Earl Hall, MC 2008
Email: ak3212@columbia.edu
Meetings: Wednesdays afternoons
Location: Earl Hall
---
Anne Klaeysen is an Ethical Culture Leader (clergy) who serves the New York Society for Ethical Culture. She holds a Doctor of Ministry degree in pastoral counseling from Hebrew Union College, as well as M.A.'s in German from the State University of NY at Albany (SUNYA) and business administration from New York University (NYU). She also received a B.A. from SUNYA. Dr. Klaeysen is co-dean of The Humanist Institute, serves on the boards of Sunday Assembly NYC and The Encampment for Citizenship, and participates in several interfaith social justice coalitions. She has been a Religious Life Adviser since August 2010. Her office hours are Wednesdays, noon to 5 pm, in Earl Hall room 101.
Hindu Students Organization
Bhajans:  Fridays, 6:00-8:00pm
Location:  Choir Room, St. Paul's Chapel
Ashley Byrd — Undergraduate  Students
101 Earl Hall, MC 2003
Email: aeb54@columbia.edu
Web: www.columbiaivcf.org
Phone: 917-623-8825

Hon Eng — Graduate Students
101 Earl Hall, MC 2003
Email: he2109@columbia.edu
Web: www.columbia.edu/cu/ivcfg
Phone: 646-715-6079
Worship: Thursdays, 6:30–9:00 p.m.
Location: St. Paul's Chapel
---
Ashley Byrd graduated from Columbia College in 2002.  He is committed to fostering communities on campus where students can examine their own beliefs and explore faith through personal questions in a rigorous and loving environment. Ashley is passionate about students maturing in faith through leading initiatives that encourage spiritual growth, healing and that serve and love the campus.
---
Hon Eng did his undergraduate studies at Drew University.  He received his Master of Divinity from Asbury Theological Seminary and his Master of Theology in New Testament Studies from McMaster Divinity College. He has served InterVarsity Christian Fellowship at Columbia for 20 years.  Currently, his ministry focuses on graduate students and faculty.  He is available for appointments from 12:00 noon to 10:00 pm from Monday to Friday.
Amina Darwish
110 Earl Hall, MC 2008
Email: ad3522@columbia.edu
Web: www.columbiamuslimlife.com
 
Salat (Daily Prayer): 110 Earl Hall
Jumu'ah (Friday Prayers) 1:15–2:00 p.m.
Location: Earl Hall Auditorium
Halaqa
Thursdays 7:00–8:30 p.m. 
(Subject to change based on Maghreb prayer times)
Location: Earl Hall Prayer Room
Spiritual Reflections
Mondays 7:00–8:30 p.m.
(Subject to change based on Maghreb prayer times)
Location: Earl Hall Prayer Room
Eric Lipscomb
Email: eric@columbiaruf.org
Phone: 804-363-4333
Web: www.columbiaruf.org
Meetings: Thursdays, 8:00 p.m.
Location: Varies by week, email eric@columbiaruf.org for location.
---
Rev. Eric Lipscomb received a B.A. in Religious Studies from the University of Virginia, and his Master of Divinity from Covenant Theological Seminary. He is ordained in the Presbyterian Church in America, and has served as the RUF Campus Minister at Columbia since 2014. He enjoys processing questions of life and faith with students, and is available to meet by appointment throughout the week.   
Simran Jeet Singh
Email:  simranjeetsingh@gmail.com
Location: Earl Hall 108
---
Simran holds graduate degrees from Harvard University and Columbia University, and he is the author of "Covering Sikhs," a guidebook to help journalists accurately report on the Sikh community. Simran has taught various courses, including introductions to the Sikh, Hindu, Islamic, and Buddhist traditions, and he has received various accolades and awards for his teaching and justice work. Most recently he received the prestigious Peter Gomes Memorial Award from Harvard Divinity School, the Walter Wink Scholar-Activist from Auburn Seminary, the Presidential Excellence Award for Teaching from Columbia University, Educator of the Year from the Dialogue Institute of the Southwest, and the Community Pillar Award from the Northside Education Foundation.
Born and raised in San Antonio, Texas, Simran is a diehard Spurs fan and avid marathoner. He currently lives with his wife and two daughters in Manhattan, New York.