Weddings at St. Paul's Chapel
Every year numerous couples get married at St. Paul's Chapel at Columbia University. Weddings as large as 400 guests fill St. Paul's with joyful love and hopeful celebration. Weddings in St. Paul's may be traditional, secular, interfaith, same-sex, non-religious, civil or spiritual. St. Paul's Chapel weddings easily accommodate cultural, religious, family and individual traditions as diverse as the University itself. No affiliation with the University or St. Paul's Chapel is required. As an architectural gem, St. Paul's Chapel makes a perfect space for a variety of types of wedding ceremonies.
Seating Capacity 
The seating capacity of the main floor of the nave is 400 people. For larger weddings, the balconies can also be used, expanding the capacity to 610. More intimate ceremonies may also be held in the chancel in front of the high altar, where the seating capacity is 60 people.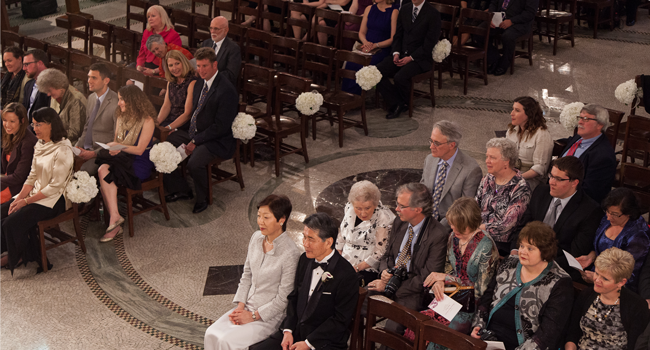 Planning a Wedding at St. Paul's Chapel
On behalf of the Earl Hall Center for Religious Life, Columbia University Event Management books special events in St. Paul's Chapel, including weddings, memorial services, concerts, and other private events. Learn more about the space and submit a request online. The availability of Officiants and reception facilities should be checked concurrently when finalizing the wedding date and time. St. Paul's Chapel books a large number of weddings each year, with April, May, June, September, October, and November being the busiest times of the year.
Wedding Officiant 
The Earl Hall Center at Columbia University is a great place to call for a wide range of weddings, including multi-faith, spiritually based, or same-sex ceremonies. Staff and affiliates of the Earl Hall Center and The Office of the University Chaplain may be available to conduct ceremonies in St. Paul's Chapel. You may also choose to bring your own officiant to preside.
Inivtations
Your invitations should indicate the following address:
St. Paul's Chapel
Columbia University
Amsterdam Avenue at 117th Street
New York, NY 10027
Enter through main campus gates at 116th Street and Broadway. There is a campus map on the north side of the 116th Street entrance.
Rehearsal Time
To assure the availability of the Chapel, reserve your rehearsal date and time when you make your wedding reservation.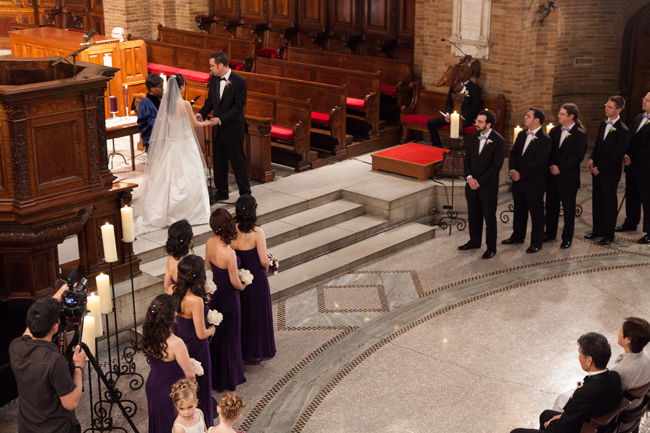 Photography
Photography and videotaping is permitted in the chapel for weddings; however you should discuss with the Officiant when pictures may be taken.
Parking
Only cars with disability license plates or permits where previous arrangements have been made will be allowed to park on College Walk. However, up to two cars transporting the wedding couple and immediate family members or guests will be allowed to drop off passengers on College Walk. Afterward vehicles must find parking off campus. Please go to the Columbia Website's About page and click on Visiting for information on local parking garages.
Restrictions 
The chapel, built in 1904, is a historic landmark of New York City, and is rented as-is. There can be no pinning, taping, stapling, or otherwise affixing decorations, signs, etc. to the walls, doors, floors, or woodwork anywhere in Earl Hall or St. Paul's Chapel. Balloons are not permitted anywhere inside St. Paul's Chapel. No runners are permitted inside or outside of the chapel. Throwing of any objects, i.e. rice, rose petals, bubbles, confetti, etc., is NOT permitted inside or outside of St. Paul's Chapel or Earl Hall Center. Pets are not allowed inside the chapel. No food or beverages are allowed inside of the chapel nave. The piano, peace altar, or chairs in the Nave may NOT be rearranged. Violations of any of these restrictions shall constitute grounds for forfeiture of the applicant's deposit.
Virtual Tour of St. Paul's Chapel
To see a virtual tour of the interior of St. Paul's Chapel, click here:  Virtual Tour of St. Paul's Chapel.